Group Homes & Housing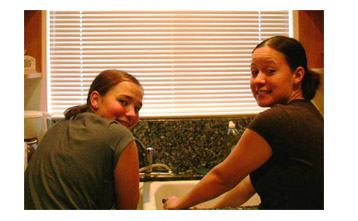 Group homes provide a familiy type setting for youth that are struggling with a specific types of behavior. By nature, these facilities are placed in residential areas. As compared to other treatment options only 6-8 students live in these settings. Chores and cooking are required by the residents. Everyone takes turns, helping out as their responsibilities require. Staff are present at all times but their role is much different than it is in other treatment facilities.
The goal of the group home is to help the student aquire certain skills. These skills can include social, mental, and job related skills. Some homes are designed to help patients with drug and alcohol addictions or psychological conditions. Ultimitly the goal is for residents to move from the group home to an independent living arrangement. For a teenage, this means going to college, moving back home, or finding an aparment and work.
The real purpose of a group home is to assymilate a resident into the community. This aspect makes homes unique from any other treatment available. Other options are focused on extreme behavior which needs immediate correction. Sometimes years of bad habits have to be curbed in a short amount of time respectively. Group homes are designed for residents who want and need help in a specific area.
In many cases youth group homes are operated by the government. These type of homes help teens with criminal backgrounds. Most states require youth to serve time in juvinile detention. From there wilderness camps, residential treatment centers, and group homes are required. This lightens the tax burden and provides an opportunity to grow. If a student runs away or is a threat to others they will most likely be sent back to detention.
Study after study has proven that group housing provides improvements in social and behavioral skills. Residents are also more productive in their lives.